How to Record
Once FBX is running, switch to a game. You should see the overlay. By default it'll be in the top left corner and look like this: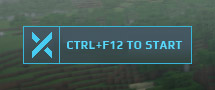 Hit the 'start recording' hotkey and you'll see the overlay change to show FBX is recording.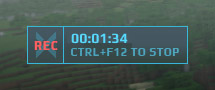 Just play as usual…
If you don't see the overlay, then FBX can't record the game.
Hit the same hotkey again to stop recording.
When you stop recording, FBX saves the recording (an MP4 file) to the 'FBX Recordings' folder in your Videos library.
While recording you can hit hotkeys to:
Save a Clip – the previous few seconds of gameplay – (F10 by default)
Save a screenshot (Print-Screen key by default)
Pause the recording (F8 by default)
When you return to the FBX window, the new recording will be selected in the Recordings tab and displayed in FBX, where you can play it.
Your Recordings
Select the Recordings tab in FBX to see the recordings, screenshots and clips you've saved.
Select 'History' to see them in date order – most recent at the top. 
Select 'By Game' to sort them by game.
Rename a recording by clicking on its name.
Remove a recording from the list or delete the recording file by selecting the recording and clicking the trash can icon below it.
Recordings and clips are saved as MP4 files into the folder 'FBX Recordings' in your Video library by default, but you can change the folder by going to Settings tab and selecting General -> Recordings Folder
You can limit the disk space used by recordings by going to Settings -> General -> Recordings Folder and clicking the 'Change' button.
Sound + Webcam
In FBX, go to Settings -> Sound and Webcam to set the sources to record and how loud they should be.
FBX can record two sources simultaneously, usually the game sounds and microphone. By default it selects the default mic and pc speakers sources.



If the game volume is a lot louder than your commentary, use the Game volume slider to reduce its volume.
Recording a Webcam
FBX won't record your webcam by default. Go to the 'Sound + Webcam' tab and turn on the 'Record webcam' option.
To set the size and position of the webcam window in your recording:
Click the blue 'Preview webcam and set position and size' link.
A small webcam window will appear. Click and drag to set its size and position. This sets where it will appear in your recording.
Other settings:
Source: select the webcam to record, if you have more than one.
Show webcam while recording: if this is ON you'll see the webcam image on your screen while recording. If you want to hide it, turn this setting OFF.
Rotate 180 degrees: some webcams, on Windows 10, rotate their image 180 degrees. Turn this setting ON only if your webcam makes a rotated image.
Opacity: slide this to reduce the opacity of the webcam window. If you want to appear in the recording, but not too much.
Clips + Screenshots
FBX can save screenshots and clips of the previous few seconds, as well as save your entire gaming session.
Screenshots
You can save screenshots while recording by pressing a hotkey (the Print-Screen key by default).
Screenshots are saved to the same folder as your recordings, and you'll see them on the Recordings tab – they get marked with a camera icon.
Clips
Press a hotkey (default F10) to save the previous few seconds to a separate MP4 video file. You have to be recording to do this.
To set the number of seconds to save in the clip, go to Settings > Hotkeys.
Clips are saved to the same folder as your recordings and are listed in the Recordings tab, where you can review them.
Note: the clip files will be generated when you stop recording, not during recording.
Hotkeys
FBX has a few functions you can activate during recording with hotkeys:
Start and stop recording (default CTRL+F12)
Save a clip (default F10)
Save a screenshot (default Print-Screen)
Pause and restart recording (default F8)
To change the hotkeys, go to Settings -> Hotkeys. Place the cursor into the input for the hotkey you want to change and press the new key combination. You'll see the new hotkey in the input. If the input goes blank, this means FBX couldn't grab that hotkey – some other application may have reserved it already.
Performance
Some settings affect FBX's performance when recording.
You can find these on the Settings tab, in the General sub-tab.
Encoder
Hardware encoders have faster performance than software ones. FBX will select a hardware encoder by default if available, so you should only select a software encoder if you're experiencing problems.


Frames per second
The higher the frames per second (FPS) the more resources FBX needs to compress the recording. You might improve in-game performance by reducing the FPS setting.


Dimensions
By default FBX will make recordings with the same dimensions as the game. You can increase performance by selecting an option other than 'Original' which reduces the width and height of the recording. 
Also, we've seen some combinations of webcams and settings cause performance issues. If you suspect your webcam is causing problems, but still want to record it, go to the Settings > Sound + Webcam tab, make sure the 'Wide' setting is turned off, and click the 'Preview' link to decrease the size of the webcam window.
Other Settings
You can see these settings on the Settings > General tab.
Video
Encoder
This sets how FBX will encode the recording.

FBX tries to pick the best encoder by default. If your video card or CPU can handle hardware encoding, it'll pick that.

If you've got a recent NVidia or Radeon/AMD video card or Intel CPU, you should see some 'Hardware Encoder' options in the dropdown. If you don't have these, you'll be using a 'Software Encoder'. Hardware encoders are much faster, but don't give up if one isn't available – depending on the game and your CPU, you can get good results with a Software one.

Frames per second (FPS)
This is the frames per second FBX will try to record. Its set to 30 by default, but you might want to increase this to 60 or higher if you're playing a fast shooter. Higher fps = smoother video, but if your PC performance is being stretched by a particular game, higher might also = a reduction in game FPS.


Quality
Higher = better image quality, but larger files.


Dimensions
By default FBX creates video files with the same dimensions as the game you're recording. To improve performance and create smaller files, you can use the 'Dimensions' setting to record to a smaller size.


Cursor
Do you want to record the mouse cursor or not? FBX tries to guess which games need this, but if it's got it wrong you can select 'Record the cursor' or 'Don't record the cursor' here. And it would be great if you can tell us the game it messed up on…
Switching away from the game
What do you want FBX to do when you switch away from the game? It can pause recording (and continue when you switch back), stop, or carry on recording the game (not whatever you've switched to).
Support
If you want to report a problem, give us feedback or just find out a bit more about FBX, go to the Support tab.
There are a few options here:
Forums
If you want to give us feedback on what's wrong or what's right, this is the place. You'll also find discussion of issues reported by other users.


Reporting Problems
If you've hit a bug and want to let us know, click 'Send a problem report'. The report will contain files that should give us a head start on figuring what's gone wrong.


Logging level
This defaults to 'normal'. Don't change it to 'Debug' or 'Verbose' unless we've asked you to, because that could affect performance.