How to Record
Once FBX is running, switch to a game. You should see the overlay. By default it'll be in the top left corner and look like this: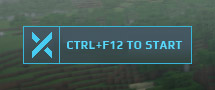 Hit the 'start recording' hotkey and you'll see the overlay change to show FBX is recording.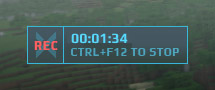 Just play as usual…
If you don't see the overlay, then FBX can't record the game.
Hit the same hotkey again to stop recording.
When you stop recording, FBX saves the recording (an MP4 file) to the 'FBX Recordings' folder in your Videos library.
While recording you can hit hotkeys to:
Save a Clip – the previous few seconds of gameplay – (F10 by default)
Save a screenshot (Print-Screen key by default)
Pause the recording (F8 by default)
When you return to the FBX window, the new recording will be selected in the Recordings tab and displayed in FBX, where you can play it.
Your Recordings
Sound + Webcam
Clips + Screenshots
Hotkeys
Performance
Other Settings
Support