v5.25.0 : March 2017
Fix: improvements to webcam capture code (now uses MSMF)
Fix: Flashback Connect upload form - movie names could overlap 'copy' and 'open' links
Fix: recording could freeze if the webcam was not initialized correctly
Licence now only downloaded once when multiple instances of FlashBack are run
Player is pre-loaded only for PCs with 8gb and higher RAM
Fix: sound source names containing Japanese characters could not be selected for recording
Fix: MPEG recording mode quality level setting was not saved
Added tooltip hint for volume level controls
Fix: the help text for FBAPI wrongly stated that it was only available for TestAssistant
Fix: added workaround for exception in Win 32 SaveAs function
Added option to turn off/on Player pre-loading for previewing recordings
Fix: incorrect audio formats could be displayed when there are no audio recording sources
v5.24.0 : Jan 2017
Fix: message about requesting an express licence could be displayed when running Pro
v5.23.0 : Jan 2017
Express now displays 'Try Pro' panel
Changed how unsaved temporary files are handled - its believed this could be causing file corruption
Fix: various problems could be caused when the FPS of an inserted MPEG movie was different from the movie it was inserted into
Fix: transitions could be displayed incorrectly when changing the duration of objects before the transition so that they are displayed at the start of the transition
Fix: incorrect webcam preview displayed when rotation was enabled
Improved memory handling of very large movie files
Improved EXE player performance for MPEG movies
Added support for NV12 format in import of AVI files
For command line recording of a region, the region selection dialog is no longer shown
Added workaround for issue with the progress form displayed during the stop recording operation
Fix: the default Windows audio recording source could not appear in the 'mic' list. We now list all non-mic and non-pc speakers sources in the 'mic' list.
Fix: when running from the command line on a PC with multiple monitors, the monitor selection dialog no longer appears
Fix: to the GDI to MPEG format converter
Fix: dragging an image across a transition could cause an error in special cases
Fix: inserting frames into an MPEG movie, when the MPEG track had different FPS than the FBR could cause issues
v5.22.0 : 27 October 2016
Fix: The layout of the recorder window could be incorrect after maximising and minimising
Fix: could not upload to Youtube, due to API changes
v5.21.0 : 11 October 2016
Adds note about business-personal licensing to licence.rtf
Removes 'Webcam' title from webcam recording window
Fix: incorrect drawing of sound clips
Fix: 'webcam-only' recordings no longer prompt you to review/save/discard when recording stops - you can only save them.
Implemented 'Resync waveform with audio' feature.
Fix: rapid deleting, selecting and playback could cause a freeze in player
v5.20.0 : 26 September 2016
Fix: improved the process to move-copy the temp recording file to prevent possible errors.
Added option to rotate webcam image 180 degrees.
Fix: Recorder did not remember the last folder used in the file -> Open Movie feature.
Fix: the GDI -> MPEG movie conversion utility was creating broken movies.
Fix: problems with transitions - when objects were in the final frame of the transition, and in updating the transition cache.
Fix: unicode characters in textbox and button style names caused an error.
Fix: improved efficiency of processing the crash tracking file.
Fix: if the review option was being used from the Recorder when recording stops, and the movie triggered a request to convert it to MPEG mode in Player, this could cause a Player crash.
Improved the About, Splash and Welcome dialogs for high-DPI monitors
Moves the UI to record windows and regions to the main recorder window
v5.19.0 : 25 August 2016
Fix: prevents movies from being opened in two player instances.
Fix: tray icon or purple toolbar could be unresponsive after recording
Additional checks and fallbacks on opening of unsaved recording for review in Player.
Fix: when the 'display webcam while recording' option is on, the webcam window is made topmost while recording but not when recording is paused.
Set low memory usage and disables Player pre-loading when PC has =< 2Gb Ram
Fixed audio issues with audio virtualization software like Nahimic
Adds option to Review / Save / Discard recording when recording stops
Fix: Help file could not be accessed from Player of Plus edition
Fix: setting a low recording level for the "pc speakers" audio source caused the level to drop to zero
v5.18.0 : 11 August 2016
Fix: inserting one movie into another that contains zoompan effects could cause an access violation.
Fix: immediate opening of recordings in Player could be blocked if a user had previously set the "dont ask to play" setting in recorder.
v5.17.0 : 02 August 2016
Fixed a number of problems with webcams,including vertically flipped webcam images and issues on PCs with multiple webcams
Crop regions no longer follow the mouse by default, so the region position can be changed.
Implementation of Record-time notes in Express changed so they can be created but not edited.
FlashBack Connect accounts auto-created for trial users on first-use, instead of requiring account details to be input
Improvements to usability of screenshot function
Changes to the Recorder menus, including addition of Scheduling and Window menus
Disabled Skype recording level 'ducking' - Skype would change the recording level of the pc sounds source during calls, resulting in a quiet "other side" of the conversation.
Changes to audio code (use "internal" code instead of dll) which fixes some issues.
Fixed problems in FBCmd.exe utility (by porting to BCBXE3)
Express only exports to WMV, which doesn't have the usability issues of Flash (obsolete) and AVI (default Windows codecs are terrible) formats used previously.
Watermark added when on trial increased in size and scales with the movie.
On stopping recording, Recordings open immediately in Player
Fix: export folder paths now correctly handle unicode
Improvements to auto-update feature. Updates are downloaded in the background, and user is requested to update on restarting FlashBack
v5.16.0 : 22 April 2016
Updates Windows API used by sound recording on Vista and newer.
Webcam recording uses MSMF API instead of DirectShow on newer installations of Windows
Recorder UI adjusts correctly to high-DPI screens
Added a warning to Windows 'N' edition users that they need to install a media pack to enable sound recording
Added shortcut ctrl-W to close the current movie
Fix: the 'change movie speed' function did not change the speed of any webcam video in the selected section
Fix: Possible fix for Access violation error on display of progessor form
Fix: the audio recording level meter sometimes would not work (GetPeakValue returns 0)
Improved default 'pause' image, to show a 'play' icon
Fix: batch export could produce invalid MP4s when processing more than one FBR, due to invalid AAC timestamps
v5.15.0 : 6 April 2016
Fix: cursor highlight did not render correctly in 'spotlight' mode with no border
Fix: problem in re-recording cursor
Fix: Left side panel visibility was not saved correctly
Improves MP4 export by using Intel AAC encoder
Adds EXE format to batch export
Fix: blur objects were not cropped correctly during the 'Make cropping permanent' operation
Fix: transitions could be rendered slowly, holding up playback
Fix: PC speakers audio source was not recorded on some PCs
Fix: window regions were not recorded correctly in Windowes 10
Fix: webcam on Surface Pro 4 on Windows 10 was not recorded
v5.14.0 : 29 Jan 2016
Name change - "BB FlashBack" is renamed to "FlashBack"
Fix - crash in audio code
Fix - watermarks could be duplicated
Fix - some WMV video files could not be inserted
v5.13.0 : 8 Dec 2015
When uploading to Youtube, the entire movie is uploaded and not just selected frames.
Keys like 'pause' and 'break' are displayed in the user interface now, when being used as hotkeys in Recorder.
Fix: there was a long pause when trying to open the currently open file.
Fix: rapid editing and saving could cause a crash.
Fix: display of thumbnail images on mouseover of the timeline could cause a crash.
Fix: Recorder no longer makes a 'ding' sound on start of recording by default.
Fix: copy-pasting an image object could create an empty image on the first copy.
Improved user interface label alignment when Windows is in >100% scaling mode.
Fix: various memory leaks and potential problems.
Fix: error message on trying to add a Marker.
Fix: Youtube uploads were always made private regardless of sharing setting.
v5.12.0 : 19 Nov 2015
Fix: problem maximising Player on secondary monitor
Additional shortcut keys for menu items
Fix: in some cases an undo operation could cause an error
Fix: a problem with inserting frames into mpeg movies, caused by timestamps
Fix: it was possible to create multiple pauses in one frame
Fix: object duration incorrectly extended by 'slow down frames' operation
Recovers text data from corrupted textboxes
Fix to label sizing and alignment on Win 7 with 150% scaling
Fix: editing and saving rapidly could cause crash
Fix to highlight draw code that could cause AV in some situations
Fix: possible crash on inserting an FBR containing invisible webcam track
v5.11.0 : 8 Oct 2015
The 'loop playback' setting remains on when a new selection is made
Fix: a change to the Youtube API meant users needed to get an access token on every upload
EXE exports can now be played back at 1/2, 1/4, x2, x4 speed
Fix: it was possible for frames to be incorrectly ordered in MPEG movie exports
Fix: some versions of the XVid AVi codec would not export movies of certain dimensions
Fix: users could see an error relating to access rights on saving a movie
Fix: crash in Youtube upload
Fix: when playing Flash exports in Fullscreen mode, interactive buttons sometimes did not detect a click
Fix: conflicts between a number of components (XMLSettings, XMLParser, BBLogSysClient) could cause a crash on startup
v5.10.0 : 20 July 2015
Fix: MP4 exports could display a yellow line at the right side or white line at the bottom, depending on the export dimensions
Enables conversion of FLV files to FBR via the 'Convert video file to Flashback movie' function
Fix: when selecting screens to be recorded in a multi-monitor system, screens were incorrectly darkened
Fix: incorrect looping in exported GIFs
Fix: LAME encoder could cause AV on saving audio. Added FPU workaround
Enables running without licence for one day

v5.9.0 : 1 July 2015 
Fix: long startup times could be caused by not clearing the crash tracking xml file.
Fix: cancelling an Insert Video operation hid the dialog, making it appear that the main window was unresponsive.
Various improvements to the 'Enter licence key' dialog.
Fix: prevents tiny regions being defined on Region recording
Enables FlashBack Connect trial licences
v5.8.0 : 22 May 2015
Fix: Region or window recording when Windows was using >100% scaling did not record the correct region
Fix: could not export text from a movie containing Button objects
Added openh264 support for MP4
Fix: to XML parsing problems
Fix: incorrect text on 'enter licence key' dialog for Express
v5.7.0 : 21 April 2015
Fix: possible problem on some PCs that did not have msvc80.dll
Fix: broken cursor data could cause exe exports to crash
Removed the option to run unlicensed
Fix: crash on start of Player due to GDI+ APi call
Added option to record 'modifier' keystrokes Shift, Alt, Ctrl
Fix: on screenshot uploads to FlashbackConnect, the wrong name was display on the Uploads dialog
Fix: when exporting a selection of frames, entering a value for the end frame clears the value for the start frame
Fix: saving then opening a recording from Recorder did not work when the date and time were automatically added to the file name
Fix: could not remove border from some images
v5.6.0 : 13 March 2015
Reduces CPU usage during playback when using default 'IPP' rendering
Improves speed of saving a recording when using size limiting functions in the Recorder
Fix: reseller IDs were not being passed correctly to bbflashback-keys.com domain
Fix: WMV export could crash with 'floating point exception'
Fix: volume control on central toolbar could be partly hidden because the toolbar was not adjusting to window width correctly
Fix: the upgrade link on the Express splash dialog could be empty
Adds ability to overwrite movies in FlashBack Connect rather than create a new one on every upload
Fix: if a movie had its audio track divided into clips, sometimes a clip could be repeated on export
Added options of different formatting when including the date in the recording file name
Added ability to reset FlashBack Connect account password when selecting the 'Use existing account' option
Added ability to add markers to movies in Express edition
Fix: some MP4 files when imported, played at > x1 speed
Fix: selecting to share to Youtube shared to FlashBack Connect instead
Fix: in the 'Upgrade to Pro or Standard' dialog in Express, the 'Upgrade' link could be blank
v5.5.0 : 9 Feb 2015
Shifts sound back to its natural pitch when playing back at > x1 speed
Adds ability to send screenshots to FlashBack Connect
Fix: crash in EXE export, on opening the EXE player
Fix: Player crashes on startup in vistacoresoundapiwrap.dll, for some PCs
Fix: export to Powerpoint format could create a zero byte file
Adds ability to have date and time added to the file name.
Fix: help file could not be opened in Express
Fix: crash on exporting text to RTF for localisation in some movies
Fix: crash when settings 'Record webcam only' and 'Display webcam while recording' settings are both on.
Adds 'unlicensed' text to the Recorder title bar when running unlicensed, to make the status clearer.
Fix: large image objects could disappear after the movie was saved.
Improves performance when opening movies that contain many key presses.
Enables dragging of red frame before region recording starts.
v5.4.0 : 19 Dec 2014
Shows more properties of webcam video streams, e.g. FPS
You can now specify the duration of scheduled recordings instead of a stop time
Fix: speeding up frames in some movies (those recorded with MPEG mode) could put mouse clicks out of sync with the video
Fix: In the left side pane of the Player, the Help button from the KeyLog tab could be visible in other tabs
Fix: opening a movie from the Welcome window when the movie is in a separate window from the Player caused an error.
Fix: arrow keys not displayed correctly in the keybar
Fix: some dialog boxes could be displayed split between dual monitors
Fix: framebar scroll on dragging selection was too fast
Fix: crash on stopping recording
Hides the main Recorder window when defining a record region
Fix: 'upload initializing' could be displayed for a long time when uploading to FlashBack Connect
The upload list is cleared on changing FlashBack Connect accounts
v5.3.0 : 31 Oct 2014
Fix: uploading cropped movies to Flashback Connect resulted in incorrectly cropped movie
Fix: clicking items in the left side pane when no movie loaded caused crash
Fix: the scheduled recording start and end time controls were not drawn correctly
v5.2.0 : 14 Oct 2015
Fix: Youtube authentication codes were not being accepted by FlashBack which meant it could not authenticate to an account on first use.
v5.1.0 : 6 Oct 2014
Fix: region recording on 3 monitor systems could produce a movie that could not be opened.
Fix: crash on batch export to Flash format
Auto adjustment of audio levels when recording, if detected to be too low
v5.0.0 : 16 Sep 2014
Major additions:
Share movies easily with FlashBack Connect (Beta - for Pro and Standard purchasers only)
New user interface
Password protect movies
Easier localisation of movies: movies can contain multiple languages and import/export text
Add 'magnifier' effects
Many other smaller improvements and fixes
---
Version 4
Version 4.1.20 
Fix: used old Youtube API which resulted in upload errors.
Version 4.1.19 
Fix: movie loading could freeze due to problems in crash tracking log file.
Version 4.1.18 
Fix to licence management improvement in 4.1.17.
Version 4.1.17 
Simplifies licence management by removing licence from licence server on uninstall.
Version 4.1.16 
Now checks online for invalid or abused licences
Fix: recording the webcam could produce a "division by zero" error message
Fix: when running the Player in fullscreen mode, some buttons failed to operate
Fix: incorrect default save folder
Fix: fix to problem with use of FPU that could create movies with no audio track
Version 4.1.15 
Fix: problem with access rights when saving a movie
New in version 4 
Add Transitions to make a smooth fade from one part of the movie to another
Drag objects to and from the 'gallery' to reuse them more easily
Export to GIF format
Blur parts of the movie
Make notes at record time and see them in the recording
And many other smaller improvements
---
Version 3
New in version 3:
New recorder window to show most used options and enable faster recording.
Enhanced Player framebar interface to make it easier to work with presentation objects.
Add arrows to movies
Add watermark images to movies.
Sound processing: noise removal and options to compress and normalize volume in movies.
Add 'titles' to the start and end of the movie.
Insert video files into movie.
In-movie pauses handled by pause objects rather than inserting frames.
Flash-FLV exports can contain interactive objects such as 'click to continue' buttons.
Scheduled recording.
Apple device (iPod, iPad, iPhone) compatible exports with MPEG4 format.
Rich text in textboxes.
Automatically display invisible keystrokes.
Fade sound in and out.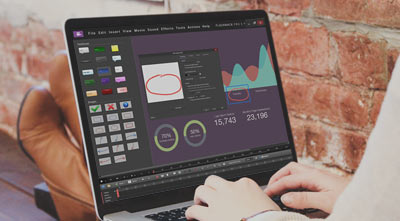 See how FlashBack is used in Education